Please note: For the remaining appendices, only an enumeration of the main points is given here.
APPENDIX I: AT AND BEYOND THE TWO ENDS OF THE SPECTRUM
1. Intriguing similarities between architecture and music
2. Could the ends of the spectrum link back with each other to form a circle
APPENDIX 2: THE ARTS IN COMBINATION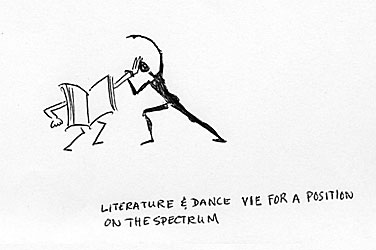 1. Temporal arts, music most of all, bring out latent temporal tendencies in other arts
2. The use of music in conjunction with dance
3. The migration of an art towards a neighboring art on the spectrum
4. Arts at the center narrate or portray the other arts; arts at the ends enhance other arts
5. When an artist works in more than one art.
APPENDIX 3: MORE ABOUT TIME
1. The tempo and continuity of consciousness.
2. Defining consciousness or time, one in terms of the other.
3. The nature of the present.
4. The contraction of possibility to fact in the present moment; how in art there can be a
dilation of possibility.
APPENDIX 4: MORE ABOUT THE SENSES
1. The raw data of sight
2. Frequency as it manifests itself in hearing versus seeing
3. The sense of touch: the spread-out field of its receptors; awareness of self versus
awareness of other; sight versus touch and our sense of reality; that touch is
qualitative
4. Smell: how its sensations vary; possibility of basing an art on smell
5. The kinesthetic sense: knowledge of within
6. Tone-quality as a unique effect due to two different causes
7. Hypothesizing a new sense
"Download full text of chapter"